What's one to do in Vancouver?
Visit the Capilano Suspension Bridge Park. It's a bit pricey for what it is, but I guess that's standard for touristy attractions. On the upnote there's a free shuttle bus there and back.
Since we managed to make the first shuttle of the day it was fairly quiet and serene whilst we were out there. The suspension bridge spans the river and was originally built in 1889. Along with the suspension bridge there is a treetop walk and a cliff walk to fill the time.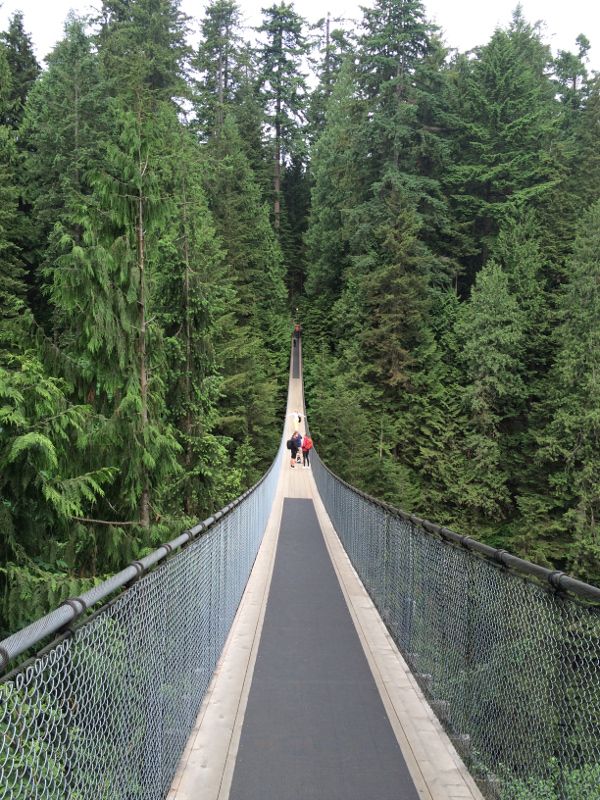 <figcaption class="wp-caption-text">Suspension bridge</figcaption></figure>
After we'd walked all things we could there we caught the shuttle back to Canada Place and decided we needed some food as we hadn't had breakfast. Seeing were in Canada we had to try some poutine, so we walked over the Mean Poutine to give it a try.
<figcaption class="wp-caption-text">Poutine</figcaption></figure>
Verdict: Not bad. Kinda like chips with smooth gravy and cheese that is slightly salty – think halloumi but softer. After getting our food fix it was a stroll back up Robson St back to the hotel for a rest.
Mid afternoon went out for another stroll to see the Chinatown and Gastown area. Wasn't that impressed with it. Probably didn't help that we somehow ended up walking through the bits of Downtown Eastside that I'd liken to the Tenderloin in San Francisco.
So tomorrow instead of heading back to Chinatown we're going to head out to Stanley Park and hire some bicycles to ride around.